Like the elves, we wanted to squeeze in a couple extra projects before the holiday season. A client found a large slab of fallen cedar near a rail line in the Nelson area. The sample has unique features and a natural bowl shape. We believe the wood may be a remnant from a lightning strike due to the pattern of the burn and its location on the inside core. The wood was aged and weather worn, and full of splinters, however the structure was still good and could be preserved as a bench.
We suggested continuing the rail line motif with an industrial style combined with the wood. We 'tracked' down a nice piece of I-beam from the recyclers and then went straight to Steve at Hawk Metalworks in Poco (leave a comment if you want the tel#) where the frame was cut and welded to our exact specifications. For ties we used hemlock 4″x3″ rough cut beams.
The challenge with old cedar is the breakdown of the long grains resulting in slivers and and fractures. We soaked the piece in poly several times, sanding extensively to create a natural finish without gloss to the client's preference. If cedar does get a sharp edge, sanding just exposes more of the sliver, so for anything too nasty, we cut across the grain in a scoop motion, soak with finish, and sand the divot smooth. The goal was to preserve the natural bowl shape that caught the client's attention back in the forest.

The rail is left natural and local fabricator, Sawitall.net, helped design the brackets which were torched to look old and we applied a little flat black paint. Four bolts lock the rail to the ties from underneath.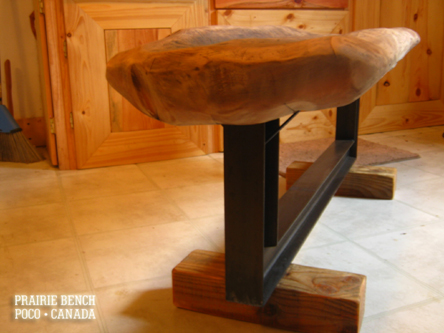 #4BL12-13
height: approx 19″, length 52″, width 18″