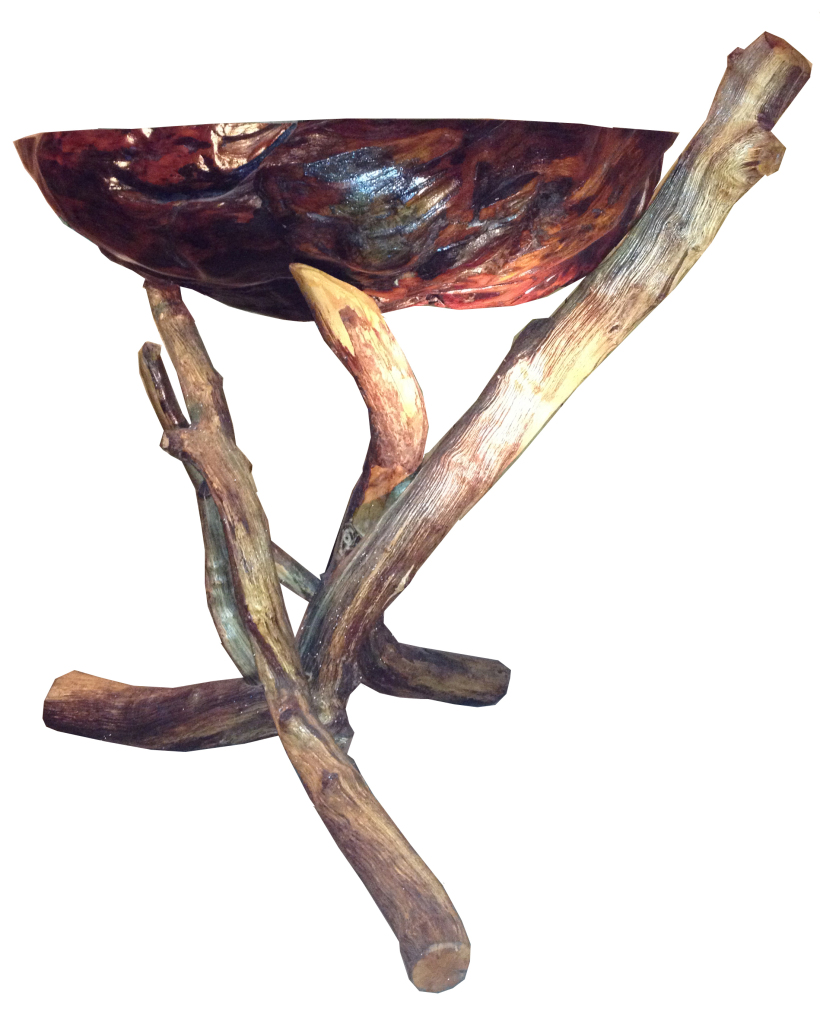 An ancient (over two hundred years old) river bourne cedar scrying bowl set upon Rowan branches.
This is a one-of-a-kind, very unique showpiece and an original Prairie Bench design. The hand ground Cedar Burl Scrying Bowl has been displayed in local studios and used by fortune tellers who look into future events.
The rich burgundy tones pop on the polished surface which holds approx. 1 liter of water. The legs are twisting and interlocking English Mountain Ash known as Rowan (used for wands) and harvested on site, then joined without metal to create a stunning tripod that cradles the bowl.
The burl is large with an oval shape 40″ long and 24″ across. It's approximately 12″ thick and set on the stand, the surface is 30″ tall.
'River bourne' means this burl came from a tree which fell naturally, swept into a river and later harvested by a licensed tug operator. On the ocean, we call it beachcombing. The source tree fell of it's own accord or came down naturally. The only cut was to separate the burl from the timber.
The cedar burl has deep burn marks attributed to a lightning strike. You can see in the cross section where a bolt traveled into the wood. This is a unique feature showing burns directly next to untouched wood.
Scrying is a custom used by sages and fortune tellers to 'peer' into the future through a medium such as water in a bowl. The practice is most commonly associated with Nostradamus.
The Cedar Burl Scrying Bowl is precious and one of a kind so packaging will be extra heavy duty. The burl will need to be set carefully onto the legs once you have chosen its perfect position.
This unique showpiece is the original created by Prairie Bench Poco Canada, our small woodworkers studio that locates interesting examples of wood and uses them in designs. We use natural and safe synthetic materials to preserve and enhance features left by nature. See our moonlight test of the Cedar Scrying Bowl… click here.