This project uses a sample wain cut from a West Coast cedar log. The wood sat drying for a year to prevent splits, then it was shaped with a chainsaw and sanded smooth. The final piece stands just under 8 feet tall at 94″ (240cm), 24″ wide (60cm), 9″ thick (23cm).
The reverse side is uncut and displays as raw wood. The outline of the upper wing is left mostly in the same condition as we received it. It took a fair bit of gazing and study to finally "see" the modified bird of prey with out stretched wings. We talked about adding a tail section, but the vote was to leave it at just a suggestion. The goal was to have a rough cut bird appearing out of the wood. The profile and wing style portray a falcon or hawk.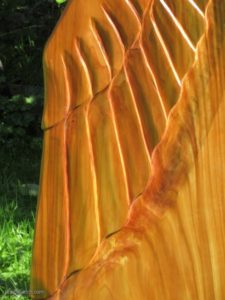 The chainsaw is evident in the way the feathers were cut using the round tip to "staircase" the surface in layers.
The finish is polyurethane which works as a durable and protective coating. It will darken over time and a light sanding may bring out the feather tips to add some contrast.